Statement

If Sculpture is three-dimensional how can I go one step further?
Animating a three-dimensional figure was a must-visit possibility.
I wanted to use time plus three-dimensions but didn't want to "complicate" it with strobe lights or holograms--yet. I was sure that I could configure a simple mechanism to accomplish the same effect. In the process I have become enamored with the notion of applying the minimum amount of technology to a problem first. Complicating things in the name of simplicity--It's an engineering thing.
I will revisit this idea soon.

Background

I started this piece very early. It was my first figurative piece and my first bronze. I learned a lot but mostly from the mistakes I made.
I did not yet have the skills or the understanding of anatomy and used this piece to learn both. When I presented this piece in class, I was juggling a lot of different topics. I was even trying to understand the performance context of showing any piece of art.
I scripted a short narration, just a scene really, that was supposed to explore the realtionship between men and women. A woman comes in and examines the work. She looks at the dancing girl then back at me. I'm waiting expectantly. She sneers and holds out her hand. I sigh and hand her a rusty nail with which to drive into my self-portrait--It has lot's of nails allready in it. This voodoo doll represents the state of men in the last half of the 20th century having to cope with the change in gender roles. The backgound music is a clip from Laurie Anderson's Let x=x.
The day of the show, I kept fine tuning the mechanism, adjusting the location of the sprocket. Testing and testing it. The lights in the crit-room were almost all broken so I set up my own lighting system with dimmers and asked a fellow student to operate them during the performance. A friend came in to perform the part of the woman. I had a video camera set up and another student to operate that. The instructor who I wanted so desperately to impress was there.
It was an unmitigated disaster. The music, was too charged with Laurie. The performance too brief (I thought it was so obvious that I even shut it down early but everyone else was just confused and complained that it was over before they realized it had begun). The mechanism chose that exact moment to break a weld. The video camera timed out and didn't capture anything. My instructor hated almost everything about it.
But the lights worked. My instructor really liked the lights. I got an "A" in the class--probably for the lights.

Shows

This piece has only been shown in the context of classwork at VCU.
3D Animation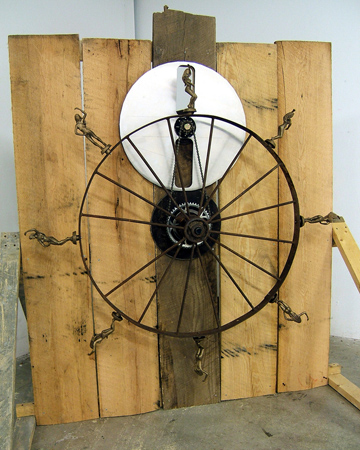 Bronzemation - 67"x84"x72" - oak, steel, bronze, mechanical shutter
3D animation - 2008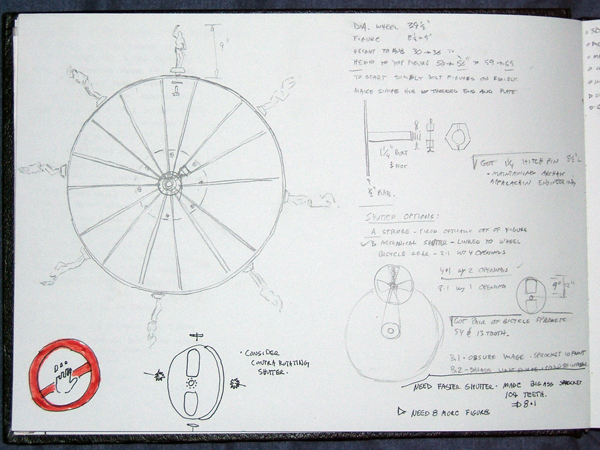 DoNotTouch - sketchbook drawing of mechanical design of "Bronzemation" 2006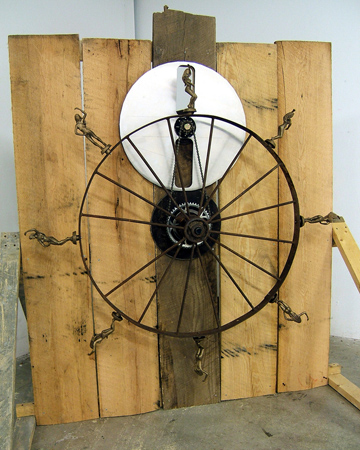 Bronzemation - 67"x84"x72" - oak, steel, bronze, mechanical shutter
3D animation - 2008